Commanders!
The fifth episode of our podcast series, The Finest Half Hour, is now available!
This week we take a step back from the battles and the conquest to take a look at the major players.
What was the state of the world when the war began? How did the great powers stack up militarily, economically and diplomatically? What type of war did the various nations have to fight, what were their goals due to their place in the world at the outset of the Second World War?
Sit back, relax and enjoy the latest podcast, wherever you are!

German tank production


(Photo: WikiCommons, Bundesarchiv)


Soviet T-28 tanks on parade in Red Square
(

Photo: WikiCommons)


Crusader tanks being built, 1941


(Photo: WikiCommons: IWM museum)


Char B production at AMX factory, Spring 1940
(

Photo: Public Domain)



The Finest Half Hour is a podcast series that dives into the history and stories of World War II. It is brought to you by Wargaming and narrated by British Army veteran, and armored warfare instructor, Richard Cutland.
Subscribe to The Finest Half Hour on your favorite podcast platform and don't miss any of the upcoming episode released every Tuesday! You can also follow the show for updates and historical insights on Facebook, Twitter, and Instagram!
If you missed the first episode, please take a listen.
Close the hatch, brace yourself, and prepare for the Finest Half Hour!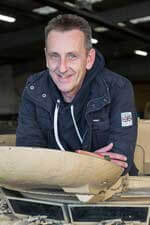 Richard "The Challenger" Cutland