The third episode of our podcast series, "The Twilight War," is now available! All is quiet on the western front...but proxy battles are fought all over the periphery of Europe. The Finns mount perhaps the greatest defense in the history of modern arms. Norway falls to might of fascist arms—but at what cost? How will these battles on the outskirts of Europe influence the great conflict to come?

German Panzer I and II tanks in Denmark


(Photo: German Federal Archive, April 1940)


A Soviet T26 tank during the invasion of Finland
(

Photo: Finnish Wartime Photograph Archive/SA-Kuva)
"The Finest Half Hour" is a podcast series that dives into the history and stories of World War II. It is brought to you by Wargaming and narrated by British Army veteran, and armored warfare instructor, Richard Cutland.
Subscribe to "The Finest Half Hour" on your favorite podcast platform and don't miss any of the upcoming episodes released every Tuesday! You can also follow the show for updates and historical insights on Facebook, Twitter, and Instagram!
If you missed the first episode, please take a listen.
Close the hatch, brace yourself, and prepare for the Finest Half Hour!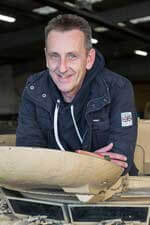 Richard "The Challenger" Cutland