Commanders!
The 17th episode of our World War II podcast series, "The Finest Half Hour," is out now!
By the autumn of 1942, German fortunes are at high tide. Rommel is driving on El Alamein in Egypt and von Paulus has reached the banks of the Volga river deep in southern Russia. It is here, in the city that bears Stalin's name, the fate of the war will be decided in one of the bloodiest battles of WWII: Stalingrad.
We've now featured all the major German and Soviet tanks of 1941-42 in the Tank Museum, Bovington's collection—so this week we'll showcase a different kind of vehicle that helped turn the tide at Stalingrad: the Katyusha! The Katyusha multiple rocket launcher is a rocket artillery system (mounted on a truck) that can deliver a salvo of rockets packed with high explosives. Each truck had 14 to 48 launchers, which were racks of parallel rails on which the rockets were mounted. Like the T-34 tank, the Katyusha soon came to be feared by German troops. The Katyusha could fire a salvo of rockets, bombard a large area, and move before the Germans could fire counter-attacking artillery.

A BM-13N Katyusha on a Lend Lease Studebaker truck, at the Museum of the Great Patriotic War, Moscow.


(Photo: Wikicommons)


A battery of Katyusha rocket launchers firing on German positions during the Battle of Stalingrad.
(Photo: RIA Novosti archive CC-BY-SA 3.0)
The Finest Half Hour is a podcast series that dives into the history and stories of World War II. It is brought to you by Wargaming and narrated by British Army veteran, and armored warfare instructor, Richard Cutland.
Subscribe to The Finest Half Hour on your favorite podcast platform and don't miss any of the upcoming episode released every Tuesday! You can also follow the show for updates and historical insights on Facebook and Twitter!
If you missed the first episode, please take a listen.
Close the hatch, brace yourself, and prepare for the Finest Half Hour!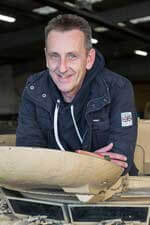 Richard "The Challenger" Cutland
The Finest Half Hour is now moving off to the Pacific War (with naval battles), but we hope to return to WOT later this spring, with the major tank battles of 1943-1945—starting with Kursk.