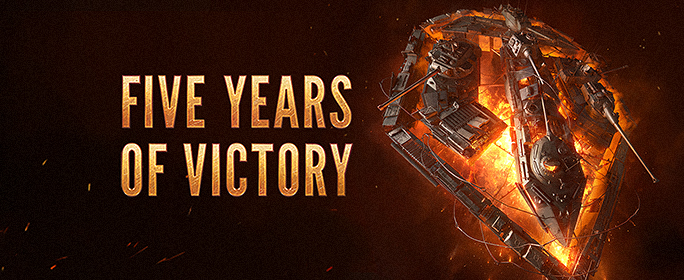 Has it been a year already? Indeed, it's time for World of Tanks' big birthday! This is when World of Tanks made itself known five years ago, and we're rolling out the goods for this special day. Take advantage of a one-day XP boost mission, and get a primo light tank available for the next week! Here's to five years of Rolling Out -- and many more!
---
x2 XP Mission (One Day Only!)

Starts

Wednesday, August 12, 04:20 PT / 07:20 ET


Ends

Thursday, August 13, 04:20 PT / 07:20 ET

Dressing for the Party

Place in your team's top 5 XP earners after a battle.

Reward: x2 Experience

Restrictions:

Tiers III and higher
Repeatable
Random battles only
Not available on daily first victories

Gift Tank

Starts

Wednesday, August 12, 04:20 PT / 07:20 ET


Ends

Wednesday, August 19, 04:20 PT / 07:20 ET




BT-7A
Tier III Light Tank

Just log in to World of Tanks during the week-long period to get the BT-7A, a Premium variant of the BT-7 with a unique gun!

Incl. 50% Trained Crew + Garage Slot

Restriction: One per account
Join us for a special, player-hosted anniversary livestream! Beginning at 10:00 PT with World of Warships, our streamers will battle alongside the Wargaming community team by land, sea and air throughout the day. Check the time slots below and be sure to tune in at Twitch.tv/Wargaming for a chance to win a variety of Premium prizes!