Why not brush up on your tank knowledge this season in our new month-long event, The Gauntlet?
Review everything you know about tanks, apply it, and be handsomely rewarded with a special graduation present from Wargaming! All throughout the month of August, you'll have the chance to unlock the rare Tetrarch Soviet tier II light tank, along with its own Garage slot!
Each week in August will have educational challenges dedicated to a specific vehicle class: medium tanks, tank destroyers, light tanks, artillery, and finally heavy tanks! Hit the books, and good luck taking on the Gauntlet!
Graduation Present
Complete the following challenges:
Medium Midterm:

August 3 - 10

Tank Destroyer Trial:

August 10 - 17

Light Tank / SPG Co-op Crucible:

August 17 - 24

Heavy AP Exam:

August 24 - September 1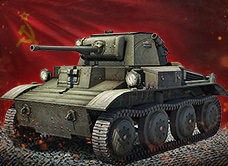 Medium Midterm

Starts

Monday, August 3, 04:20 PT / 07:20 ET


Ends

Monday, August 10, 04:20 PT / 07:20 ET

Studying for Midterms

Damage six (6) or more enemy vehicles in a single battle while driving a medium tank.

Reward:
Large Repair Kit x2

Random battles
Tiers III or higher
Once per day

Mediums - Practical Application

Deal 10,000 points of damage over any number of battles while driving medium tanks.

Rewards:
Large Repair Kit x2
Automatic Fire Extinguisher x2

Random battles
Tiers III or higher
Once per day

Medium Midterm

Complete both Studying for Midterms and Mediums - Practical Application.

Personal Reserve Reward:
15% XP Booster (duration: 2 hours, no expiration)
Remember to look out for these upcoming Gauntlet challenges:
Tank Destroyer Trial:

August 10 - 17
LT/SPG Co-op Crucible:

August 17 - 24
Heavy AP Exam:

August 24 - September 1