Get ready to hone your individual and team tactics!
A few months ago, we conducted a test that trialed Brawl mode. It was important for us to explore your interest in this mode and gain valuable feedback. We want to thank all the players who participated in Brawl and shared their impressions and suggestions. Your contribution is truly valuable!
Taking Another Step Forward
Over the past few months, we've been analyzing your feedback, and it's clear that this format is quite popular with many commanders. We're now ready to move forward and kick off a new iteration of Brawl that will last from September 18 through September 20. With several changes and improvements, this launch will be another step towards making Brawl a permanent mode in World of Tanks.
Play solo or in a Platoon in Tier X vehicles, hone your tanking skills, and share your impressions! With each new iteration of Brawl, you'll help us make this promising mode even more exciting.
Brawl

EVENT BEGINS:

EVENT ENDS:

Friday, Sept. 18 at 11:00 PT | 13:00 CT | 14:00 ET

Sunday, Sept. 20 at 23:00 PT | Monday, Sept. 21 at 01:00 CT | 02:00 ET

DAILY PRIMETIME STARTS:

DAILY PRIMETIME ENDS:

11:00 PT | 13:00 CT | 14:00 ET

23:00 PT | 01:00 CT | 02:00 ET
What's New?
This time, the 7v7 format has received a slight revamp and will feature a number of changes. Let's dig into the details.
Battle for Your Alliance!
The second iteration of Brawl introduces new sets of battle missions with a national division. When rolling into battle, you automatically join the Alliance of your vehicle's nation. Players of each Alliance will have the opportunity to complete special battle missions.
TEAM:

NATIONS:

CONDITIONS:

RESTRICTIONS:

REWARDS:

Alliance

Be one of the top three (3) Base XP earners on your team in five (5) battles

OR

Brawl mode only
Tier X vehicles only
Oncer per day

150,000

Credits
5××5 XP

for a Victory (only after a daily first Victory multiplier is used) in any vehicle

25

Bonds

Bloc

Coalition

France
Czechoslovakia
Sweden
Italy

Union
Matchmaker Tweaks
We've adjusted the matchmaker to equalize the number of rental vehicles on each team. This tweak won't affect other matchmaker settings, so they've remained unchanged since the previous launch.
Changes to Rental Mechanics
Feel free to move any crews to rental vehicles without incurring a penalty. We've also clarified some of the rules for rental vehicles. At the end of the event:
All rental vehicles and their Garage slots will be automatically removed.

All items of equipment

(including improved equipment) you mount on rental tanks will be demounted and sent to the Depot.
All directives, consumables, and ammo will be sent to the Depot.

All emblems, decals, paints, and 2D styles

will be sent to the Depot, with the exception of national emblems. These are applied to all rental vehicles by default, so they will be removed.
Crews that came with rental vehicles will be retrained for their researchable analogs and moved to the Barracks (no extra Bunks will be added for them).
All XP earned on rental vehicles will be transferred to the Tier I tank of the corresponding nation.
Interface and Vehicle Carousel Improvements
Brawl's second iteration will feature a separate vehicle carousel. When entering Brawl via the mode selector in your Garage, only vehicles eligible for this format (Tier X vehicles and rental vehicles) will be displayed.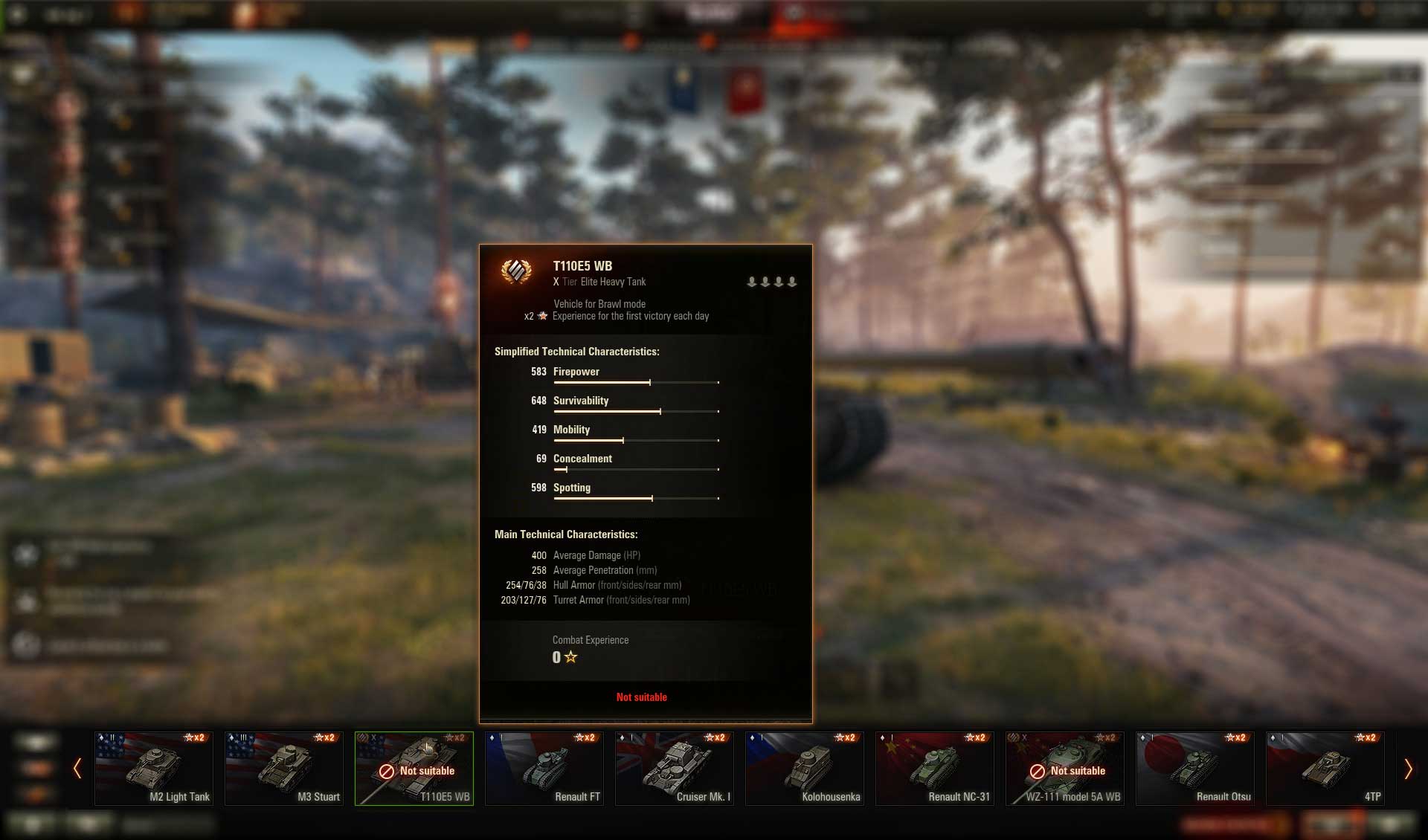 It's not possible to enter Random Battles or other modes using the Brawl rental tanks.
You can now easily distinguish a rental tank from all other steel beasts in your Garage thanks to a special indicator.
How Can I Start Playing?
Enter Brawl mode through the drop-down menu to the right of the "Battle" button.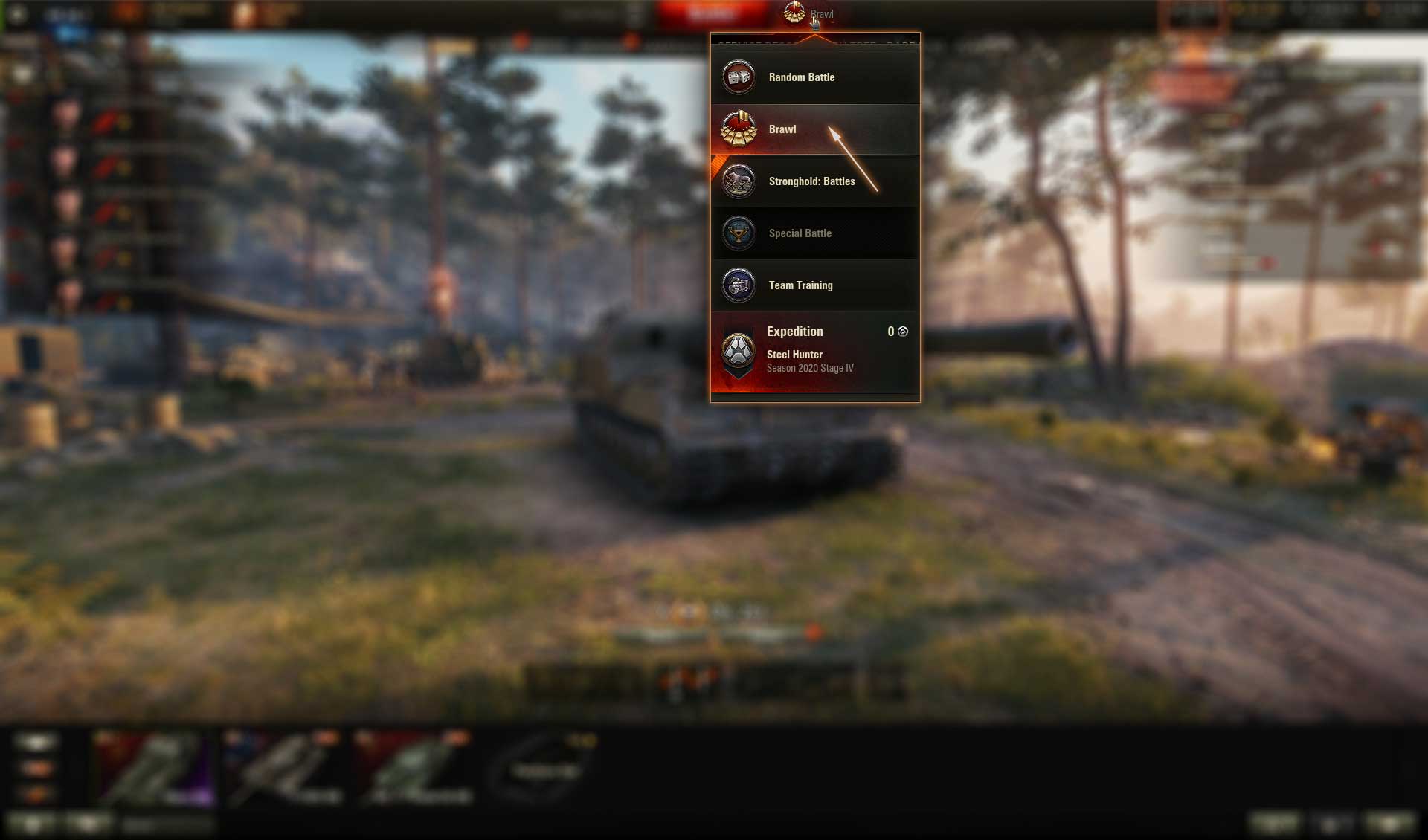 How It Works
Brawl rules haven't changed much since the previous launch. Here's a quick refresher.
General Rules
Battles take place in Encounter mode in Tier X vehicles only. If you don't own a Tier X vehicle, you can rent one of two available tanks (see below for details).
Battles last

10 minutes

.
Random Battle achievements can't be earned. The base capture time depends on the number of vehicles capturing it. Bases take 180, 90, or 60 seconds for one (1), two (2), or three (3) vehicles, respectively, to capture.
Personal and Clan Reserves can be used in battles.
×2 XP for the first victory of the day is applicable.
Just like in Random Battles, the usual game rules and terms of service apply to this mode.
Matchmaking and Platoons
During the event, the matchmaker will create a separate queue for players fighting in this mode.
The matchmaker aims to send no more than

three (3) TDs and three (3) LTs into battle per team

.
Only one Platoon and one SPG per team is allowed. Dynamic Platoons are allowed.
If the queue time is long, a Platoon imbalance is possible (for example, a Platoon of three players on one team against a Platoon of two players on the other).
Maps
Expand
Battles take place on these maps:
| | | |
| --- | --- | --- |
| Malinovka | Mines | Sand River |
| Ghost Town | El Halluf | Redshire |
| | Lakeville | |
Collapse
Rental Vehicles
To play Brawl, you just need at least one Tier X vehicle.
If you don't have any top-tier vehicles, you can rent a Tier X tank. Both rental tanks in Brawl are exact replicas of researchable vehicles and they have the same characteristics and properties. Two rental vehicles will be available:
Rental tanks come with "virtual" Garage slots and 100% Crews.
Note: After the Brawl event is over, all rental vehicles will remain on your account but won't be available any longer; they will be removed several days after. Once that happens, any equipment and elements of customization you installed on rental vehicles are demounted for free and moved to the Depot; Crew members assigned to rental vehicles go to the Barracks.
In this iteration, we've adjusted the mechanics of equipment and Crew removal, taking your feedback into consideration. Now, the equipment and the Crew on a rental vehicle won't be locked on it after the event ends. You will be able to remove the crew and demount the equipment manually (by spending respective resources) before this happens automatically (and for free) when the rental vehicle is written off your account.
Brawl side by side with your teammates and dominate the battlefield!