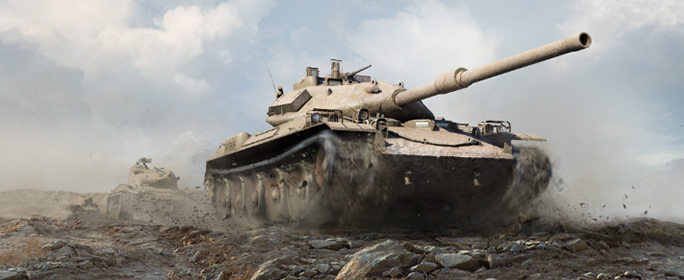 Event Starts April 15, 04:20 PT / 07:20 ET
Ends April 29, 04:20 PT / 07:20 ET

Run and Gun!
Our popular "On Track" events are designed to help you earn a Premium vehicle as you unlock and purchase an entire nation's specific tank line! If a line of vehicles is On Track, you'll receive substantial discounts on each listed vehicle in that line all the way to tier X. This latest On Track features the Japanese light and medium tank line. Solid knowledge of game mechanics and usage of the line's accuracy and gun depression is the key to success with these sharpshooting and versatile tanks.
The STB-1 is a tough-turreted tier X Japanese medium tank with good camouflage, view range and mobility. The excellent fire rate and strong turret of the STB-1 make it particularly deadly when positioned in a hull-down position at medium range.
On Track events offer gameplay variety, great tanks, the opportunity to save a truckload of Credits, and the chance to earn equipment. Complete all the missions and you can take home the Type 3 Chi-Nu Kai medium tank. It's perfect for training your Japanese medium tank Crews while earning you piles of Credits!
---
Select Vehicles
Tiers II-V
50% Off

Credits Price

Select Vehicles
Tiers VI-X
30% Off

Credits Price
Missions

Mission

Restrictions

Reward(s)

Rushing Down the Line

Damage two or more enemy vehicles in a battle.

Must be in:

Repeatable

All modes except Rampage

+30% XP

Getting Your Crew On Track

Damage two or more enemy vehicles in a battle.

x2 Crew XP

On Track to the STB-1

Earn 25,000 XP over any number of battles.

Must be in any of the On Track vehicles featured above
10 times per account
All modes

except Rampage

2x Small First Aid Kit

2x Large First Aid Kit

2x Small Repair Kit

2x Large Repair Kit

2x Manual Fire Extinguisher

2x Auto. Fire Extinguisher

Equip Your STB-1 - Part I

Complete On Track to the STB-1 four times.

1x Med.-Cal Tank Rammer

Equip Your STB-1 - Part II

Complete On Track to the STB-1 eight times.

1x Vertical Stabilizer Mk 1


This Track Leads to the Armory

Complete On Track to the STB-110 times.

Type 3 Chi-Nu Kai + 50% Crew
+ Garage slot
(If vehicle already owned, you receive Credit value as compensation)