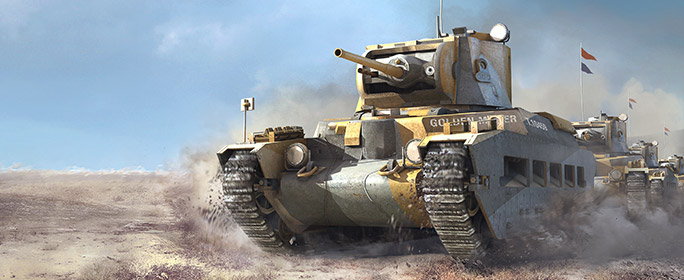 July 18-20 1944 saw the British offensive known as Operation Goodwood. The UK faced Germany in Normandy over the two-day tank battle, arguably the largest Britain fought, but ultimately costly to both sides. However, Allied forces came away with the operational victory. Our weekend event calls back to Goodwood with the following specials.
Freedom to Play Double-Key Event
Freedom to Play (FTP) rewards players with the never-before-seen FV201 (A45) Premium heavy tank! Accept the challenge and earn a ton of free Premium goodies along the way!
Starts: Friday, July 17, 04:20 PT (07:20 ET)
Ends:

Monday, July 20
, 04:20 PT (07:20 ET)
x3 Experience for First Victory of the Day

Regular British and German Vehicles, Tiers II-V
50% Credit Discount

Regular British and German Vehicles, Tiers VI-VII
30% Credit Discount
Missions

Operation Atlantic: Approaching Caen

Deal 5,000 points of direct damage over any number of vehicles.

British vehicles only


Random battles

Repeatable

Reward: 1 Small Repair Kit / 1 Small First Aid Kit

Reinforcements Have Arrived

Complete Operation Atlantic: Approaching Caen five times.

Reward: 1 Coated Optics

Containing the Offensive

Survive a battle and place in your team's top 5 XP earners.

German vehicles only

Random battles

Five times per day

Reward: 50% XP Earnings

Learning The Ropes

Play in three unranked team battles.

7v7 mode only

Five times per account

Reward: 10% Personal Reserves Credit Booster (6-hour duration, expires September 1. Boosters of the same type do not stack.)

Moving On Up

Play in three ranked team battles.

7v7 (Ladder)

Five times per account

Reward: 20% Personal Reserves Credit Booster (4-hour duration, expires September 1. Boosters of the same type do not stack.)
Premium Shop Bundles

3 Days of Premium Time
1,300
+Free: 1 Day of Premium Time

Dicker Max
7 Days of Premium Time
+Free: 1 Garage Slot

Matilda Black Prince
7 Days of Premium Time
+Free: 1 Garage Slot