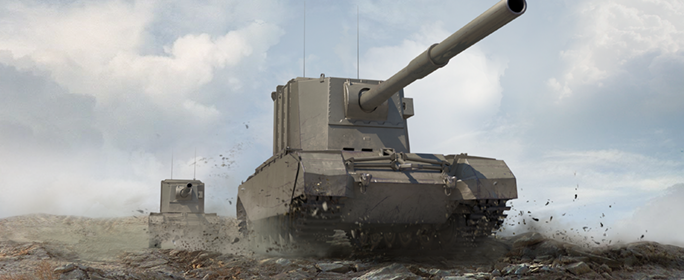 Event Starts July 15, 04:20 PT / 07:20 ET
Ends July 29, 04:20 PT / 07:20 ET

On Track events help you quickly unlock and purchase entire vehicle lines of a particular nation. If a line is On Track, that means substantial discounts on listed vehicles all the way to tier X! Plus, you have the chance to earn a Premium light tank-- this time, it's the M3 Light.
Our event is taking you to the FV4005, the top-tier turreted tank destroyer from Great Britain. Coordinate with your team and time your shots wisely!
Enjoy discounts on these British vehicles and earn rewards in this event's mission!
---
Select Vehicles
Tiers II-V
50% Off

Credits Price

M2

Cruiser Mk. I

Stuart I-IV

Cruiser Mk. II

Grant

Valentine

Archer

Sherman III

Select Vehicles
Tiers VI-X
30% Off

Credits Price

Achilles

Sherman Firefly

Challenger

Charioteer

FV4004 Conway

FV4005 Stage II
On Track Missions
"Rushing Down the Line"

"Getting Your Crew On Track"

"On Track to the FV4005"

"Equip Your Tank - Part I"

"Equip Your Tank - Part II"

"This Track Leads to the Armory"
Q:

How do I find the mission requirements?
A: Go into your Garage and click on the "Missions" tab just above your Crew:

If you're still curious, check out our handy guide!
Premium Shop Bundles

BUY NOW

1,700

1 Day Premium Acct.

+FREE:

1x Garage Slot

BUY NOW

4,500

100,000

14 Days Premium Acct.

+FREE:

2x Garage Slots