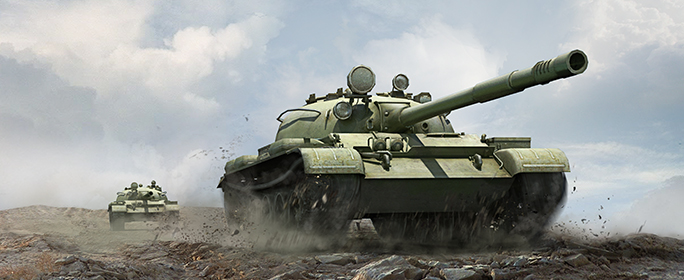 Starts Monday, May 25, 04:20 PT (07:20 ET)
Ends Monday, June 8, 04:20 PT (07:20 ET)
If you like moving fast and hitting hard, you'll enjoy going up the T-62A line.
Adaptable and well balanced, this line rewards measured, aggressive play. An experienced tank commander can function well as a "lone wolf," but these tanks are also excellent pack hunters. Working around the flanks and getting to the sides and rear of an enemy vehicle, a platoon of Soviet medium tanks is a nearly unstoppable force that can change the tide of many a battle!
While this Soviet medium line doesn't have the raw firepower of heavy tanks, they are highly mobile and capable of lending aid to a flank under attack or supporting a faltering advance. Similarly, if your base is under threat of capture, these tanks give you the flexibility to rush back to reset the cap!
We want to help you get the T-62A as fast as possible, so we've created all the Discounts, Credit bonuses and Missions a determined commander could want. Along with bundles of Garage slots to put your new tanks in, Gold and a Premium medium tank to train your Crews up right, this is a deal that is not to be missed as you unleash your inner wolf and hunt down the swift and deadly T-62A!
Discounts

50% Credit Discount

30% Credit Discount



---
Missions

On Track to the T-62A


Earn 25,000 Experience while driving one of the On Track vehicles listed above.

Rewards:

Small First Aid Kit (

2

)

Large First Aid Kit (

2

)

Small Repair Kit (

2

)

Large Repair Kit (

2

)

Manual Fire Extinguisher (

2

)

Automatic Fire Extinguisher (

2

)

Limit 10 times per account

Equip Your T-62A Part I

Complete On Track to the T-62A four (4) times.

Reward: Medium Caliber Gun Rammer

Available once per account

Equip Your T-62A Part II

Complete On Track to the T-62A eight (8) times.

Reward: Vertical Stabilizer Mk 1

Available once per account

This Track Leads to the Armory

Complete On Track to the T-62A ten (10) times.

Reward: Matilda IV + Garage Slot

Rushing Down the Line

Damage two or more enemy vehicles in a battle in any of the following: BT-2; BT-7; A-20; T-34; T-34-85; T-43

Reward: +25% Experience multiplier

Getting Your Crew On Track

Damage two or more enemy vehicles in a battle in any of the following: T-44; T-54; T-62A

Reward: x2 Crew Experience
---
Premium Shop Bundles

$7.99




1,200

Garage Slot

+ Free:1 Day of Premium

$18.79




14 Days of Premium

7 Garage Slots

+ Free:2 Garage Slots

$16.19

1,500

+ Free:1 Day of Premium