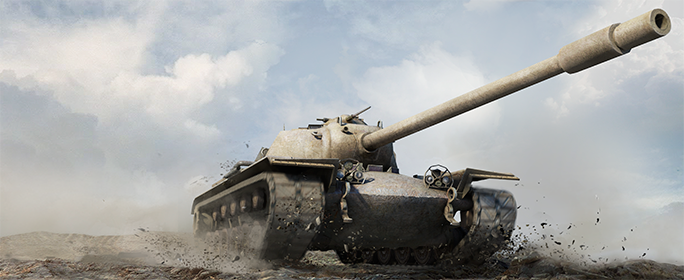 Starts Monday, July 6, 04:20 PT (07:20 ET)
Ends Monday, July 20, 04:20 PT (07:20 ET)
Described by The_Chieftain as "The epitome of American Comfort," if you like staying on the move but still want the heavy tank trademarks of armor and firepower, the T110E5 is your vehicle!
While higher-tier US tanks feature excellent speed for heavy tanks, they are not as good at handling a direct brawl. Tanks like the M103 and 110E5 shine in a multitude of roles, able to relocate at will, outflanking other heavies and outgunning mediums and lights while using terrain features to their advantage. This line rewards decisive action, good cooperation with teammates, and strong map knowledge. An experienced tank commander can function well as holding the line around hills or broken terrain due to this line's excellent gun depression and strong turret armor.
Then, continue your domination of tough tactics by earning the Armory reward of this On-Track: The British tier V Excelsior heavy tank!
We want to help you get the 110E5 as fast as possible, so we've created all the Discounts, Credit Bonuses and Missions a determined commander could want. Sit back, get comfortable, and blow the enemy away!
Discounts

50% Credit Discount

30% Credit Discount



---
Missions

On Track to the T110E5


Earn 25,000 Experience while driving one of the On Track vehicles listed above.

Rewards:

Small First Aid Kit (

2

)

Large First Aid Kit (

2

)

Small Repair Kit (

2

)

Large Repair Kit (

2

)

Manual Fire Extinguisher (

2

)

Automatic Fire Extinguisher (

2

)

Limit 10 times per account

Equip Your T110E5 Part I

Complete On Track to the T110E5 four (4) times.

Reward: Large-Caliber Gun Rammer

Available once per account

Equip Your T110E5 Part II

Complete On Track to the T110E5 eight (8) times.

Reward: Improved Ventilation Class 3

Available once per account

This Track Leads to the Armory

Complete On Track to the T110E5 ten (10) times.

Reward: Excelsior + Garage Slot

Rushing Down the Line

Damage two or more enemy vehicles in a battle in any of the following: T2 Medium; M2 Medium ; M3 Lee; M4 Sherman; T1 Heavy; M4A3E2; M6; T29


Reward: +25% Experience multiplier

Getting Your Crew On Track

Damage two or more enemy vehicles in a battle in any of the following: T32; M103; T110E5


Reward: x2 Crew Experience
---
Premium Shop Bundles

$7.99




1,200

Garage Slot

+ Free:1 Day of Premium

$18.99




14 Days of Premium

7 Garage Slots

+ Free:2 Garage Slots

$52.99

T34 + Garage Slot

+ Free:7 Days of Premium