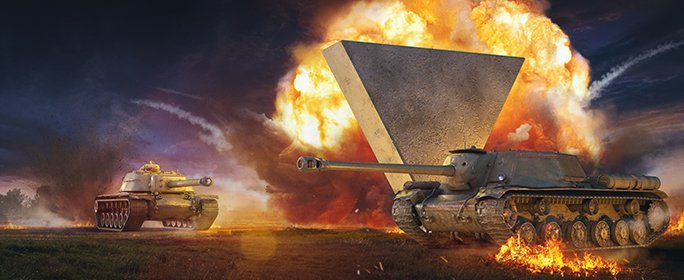 Sneak around the battlefield and snipe your enemies in tank destroyers this week to earn epic rewards with our daily missions. Don't miss out on renting the terrifying yet delicate M56 Scorpion tank destroyer. Then, move onto bigger Credits with the rental of the WZ-111 Chinese heavy tank. Try 'em before you buy 'em -- both vehicles available in the Premium Shop until March 25!
Plus, participate in the TD Throwdown 1v1 tournament for the chance to win Gold!
There Are a Lot of Missions This Week -- How Do I Check My Progress?
Simple! Check out this handy guide!
March 18-21
04:20 PT / 07:20 ET
Daily First Victories

x3 XP

How Do I Rent These Powerful Tanks?
If you earn 20,000 XP each day over any number of battles in a vehicle of tier V or higher you'll unlock the M56 Scorpion for 24 hours.
If you earn 5,000 XP

e

ach day

over any number of battles in the M56 Scorpion you'll unlock the WZ-111 for 24 hours.
Play your new tanks and see if you like them enough to own them for good!
Starts March 18 04:20 PT / 07:20 ET
Ends March 25 04:20 PT / 07:20 ET
M56 Scorpion Rental Mission

Mission

Restrictions

Reward(s)

Earn M56 Scorpion Rental in a Tier V-X Tank

Earn 20,000 XP over any number of battles in a vehicle of tier V or higher.

All modes except Rampage
Once per day
Must be in a vehicle of tier V or higher

M56 Scorpion

(24 hrs., no Crew)

WZ-111 Rental Mission

Earn WZ-111 Rental in a M56 Scorpion

Earn 5,000 XP over any number of battles in the M56 Scorpion

All modes except Rampage

Once per day

Must be in the M56 Scorpion

WZ-111

(24 hrs., no Crew)
Tank Destroyers IV-VI Daily Missions

Mission 1

Mission 2

Mission 3

Daily Reward for Completing All

Destroy 2 Tanks

Play a battle, destroy two (2) enemy vehicles and place in your team's top 10 XP earners.

Restrictions

All modes except Rampage
Must be in a tank destroyer of tier IV-VI
Repeatable

Reward

+30%XP

4K XP

Earn 4,000 XP over any number of battles.

Restrictions

All modes except Rampage
Must be in a tank destroyer of tier IV-VI
Once per day

Reward

3xLarge First Aid Kit

Destroy 2 TDs

Play a battle and destroy two (2) enemy tank destroyers.

Restrictions

All modes except Rampage
Must be in a vehicle of tier IV-VI
Repeatable

Reward

+50% Crew XP

50% XP Booster (1 hr., no expiration)

Redeemable 7 times per account

Tank Destroyers VII-VIII Daily Missions

Mission 1

Mission 2

Mission 3

Daily Reward for Completing All

Destroy 3 Tanks

Play a battle, destroy three (3) enemy vehicles and place in your team's top 10 XP earners.

Restrictions

All modes except Rampage
Must be in a tank destroyer of tier VII-VIII
Repeatable

Reward

+50%XP

5K XP

Earn 5,000 XP over any number of battles.

Restrictions

All modes except Rampage
Must be in a tank destroyer of tier VII-VIII
Once per day

Reward

4xAuto. Fire Extinguisher

Destroy 2 TDs

Play a battle and destroy two (2) enemy tank destroyers.

Restrictions

All modes except Rampage
Must be in a vehicle of tier VII-VIII
Repeatable

Reward

x2 Crew XP

100% XP Booster (1 hr., no expiration)

7x per account

Tank Destroyers IX-X Daily Missions

Mission 1

Mission 2

Mission 3

Daily Reward for Completing All

Top 3 by Damage

Play a battle and place in your team's top 3 damage dealers.

Restrictions

All modes except Rampage
Must be in a tank destroyer of tiers IX-X
Repeatable

Reward

+50%XP

6K XP

Earn 6,000 XP over any number of battles.

Restrictions

All modes except Rampage
Must be in a tank destroyer of tiers IV-X

Once per day

Reward

x4Lg. Repair Kit

Destroy 2 TDs

Play a battle and destroy two (2) enemy tank destroyers.

Restrictions

All modes except Rampage
Must be in a vehicle of tiers IV-X
Repeatable

Reward

x2 Crew XP

100% XP Booster (1 hr., no expiration)

7x per account
Full Daily

Get Full Daily 4 Times

Complete

TD IV-VI All Dailies
TD VII-VIII All Dailies
TD IX-X All Dailies

Reward

200% Crew XP Booster (1 hr., no expiration)

200% Free XP Booster (1 hr., no expiration)

Complete

Reward

3x 100% XP Booster (1 hr., no expiration)

1x Ventilation Class 2

1xGun Laying Drive

1xLg.-Cal. Tank Gun Rammer
Premium Shop Bundles

Starts March 18 04:20 PT / 07:20 ET
Ends March 25 04:20 PT / 07:20 ET

M56 Scorpion 30% Tank Discount
1x Camouflage Net
1xMed.-Cal. Tank Gun Rammer
1xGun Laying Drive

4,700

+FREE


1x

Garage

Slot