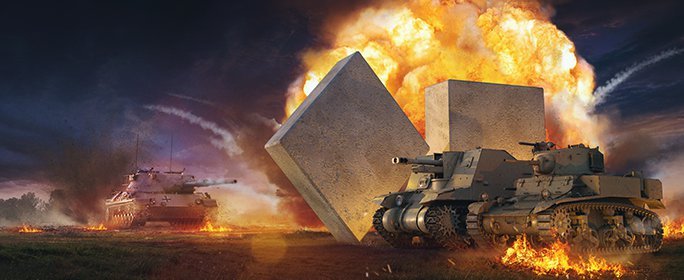 There's never been a better time for teamwork in artillery and light tanks! Ease into battle with a x3 XP bonus for the first win in each of your vehicles this weekend, then rent the zippy T2 Light Tank and test out the tank of the month, the WZ-111, a standout at close-in brawling!
Test new tactics with rewarding missions dedicated to light tanks and artillery and load up on great Premium Shop bundles featuring the T2 Light Tank!
There are a lot of missions this week -- how do I check my progress?
Simple! Check out this handy guide!
March 4-7
03:20 PT / 06:20 ET
Daily First Victories

x3 XP

Starts March 4 03:20 PT / 06:20 ET
Ends March 11 03:20 PT / 06:20 ET
How Do I Rent These Great Tanks?
If you earn 20,000 XP each day over any number of battles in a vehicle of tier V or higher you'll unlock the T2 Light Tank for 24 hours.
If you earn 1,000 XP

e

ach day

over any number of battles in the T2 Light Tank you'll unlock the WZ-111 for 24 hours.
Play your new tanks and see if you like them enough to own them for good!
T2 Light Tank Rental Mission

Mission

Restrictions

Reward(s)

Earn T2 Rental in a Tier V-X Tank

Earn 20,000 XP over any number of battles in a vehicle of tier V or higher.

All modes except Rampage
Once per day
Must be in a vehicle of tier V or higher

T2 Light Tank

(24 hrs., no Crew)

WZ-111 Rental Mission

Earn WZ-111 Rental in a T2 Light Tank

Earn 1,000 XP over any number of battles in the T2 Light Tank.

All modes except Rampage

Once per day

Must be in the

T2 Light Tank

WZ-111

(24 hrs., no Crew)
Light Tanks IV-VI Daily Missions

Mission 1

Mission 2

Mission 3

Daily Reward for Completing All

Spot 2 Tanks

Play a battle, spot two (2) enemy vehicles and place in your team's top 10 XP earners.

Restrictions

All modes except Rampage
Must be in a light tank of tier IV-VI
Repeatable

Reward

+30%XP

4K XP

Earn 4,000 XP over any numbers of battles.

Restrictions

All modes except Rampage
Must be in a light tank of tier IV-VI
Once per day

Reward

x3 105-octane Gasoline

Destroy 2 LT

Play a battle and destroy two (2) enemy light tanks.

Restrictions

All modes except Rampage
Must be in a vehicle of tier IV-VI
Repeatable

Reward

+50% Crew XP

100% Crew XP Booster (1 hr., no expiration)

Redeemable 7 times per account

Light Tanks VII-VIII Daily Missions

Mission 1

Mission 2

Mission 3

Daily Reward for Completing All

Spot 3 Tanks

Play a battle, spot three (3) enemy vehicles and place in your team's top 10 XP earners.

Restrictions

All modes except Rampage
Must be in a light tank of tier VII-VIII
Repeatable

Reward

+50%XP

5K XP

Earn 5,000 XP over any numbers of battles.

Restrictions

All modes except Rampage
Must be in a light tank of tier VII-VIII
Once per day

Reward

x4Auto. Fire Extinguisher

Destroy 2 LT

Play a battle and destroy two (2) enemy light tanks.

Restrictions

All modes except Rampage
Must be in a vehicle of tier VII-VIII
Repeatable

Reward

x2 Crew XP

200% Crew XP Booster (1 hr., no expiration)

7x per account

SPG IV-X Daily Missions

Mission 1

Mission 2

Mission 3

Daily Reward for Completing All

Top 5 by Damage

Play a battle and place in your team's top 5 damage dealers.

Restrictions

All modes except Rampage
Must be in an SPG of tiers IV-X
Repeatable

Reward

+50%XP

4K XP

Earn 4,000 XP over any numbers of battles.

Restrictions

All modes except Rampage
Must be in an SPG of tiers IV-X

Once per day

Reward

x4Lg. Repair Kit

Destroy 2 SPGs

Play a battle and destroy two (2) enemy SPGs.

Restrictions

All modes except Rampage
Must be in a vehicle of tiers IV-X
Repeatable

Reward

x2 Crew XP

200% Crew XP Booster (1 hr., no expiration)

7x per account
Full Daily

Get Full Daily 4 Times

Complete

LT IV-VI All Dailies
LT VII-VIII All Dailies
SPG IV-X All Dailies

Reward

100% XP Booster (1 hr., no expiration)

200% Free XP Booster (1 hr., no expiration)

Complete

Reward

x3 100% XP Booster (1 hr., no expiration)

1x Ventilation Class 1

1xCoated Optics

1xMed.-Cal. Artillery Rammer
Premium Shop Bundles

Starts March 4 03:20 PT / 06:20 ET
Ends March 11 03:20 PT / 06:20 ET

T2 Light Tank 30% Tank Discount
1x Improved Ventilation Class 1
1x Binocular Telescope
1x Camouflage Net

2,100

+FREE


1x

Garage

Slot