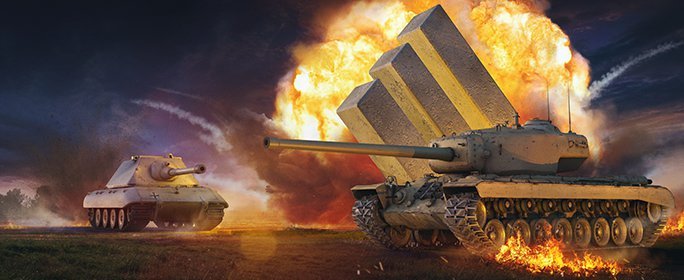 Strap on some thick armor and tool up with weighty weapons -- it's time to earn epic rewards with our daily missions in these brutal brawlers. Don't miss out on renting the fast and well-armed FCM 50t heavy tank. Then, use the FCM to unlock the rental of the WZ-111 Chinese heavy tank. Try 'em before you buy 'em -- both vehicles are available in the Premium Shop!
Q:

There are a lot of missions this week. How do I check my progress?
A: It's easy, and we show you how in our handy guide!


March 25-28
04:20 PT / 07:20 ET

x2 Crew XP

How to Rent These Powerful Tanks
If you earn 20,000 XP each day over any number of battles in a vehicle of tier V or higher, you'll unlock the FCM 50t for 24 hours.
If you earn 5,000 XP

e

ach day

over any number of battles in the FCM 50t you'll unlock the WZ-111 for 24 hours.
Play your new tanks and see if you like them enough to own them for good!
Starts March 25 04:20 PT / 07:20 ET
Ends April 1 04:20 PT / 07:20 ET
FCM 50t Rental Mission

Mission

Restrictions

Reward(s)

Earn FCM 50t Rental in a Tier V-X Tank

Earn 20,000 XP over any number of battles in a vehicle of tier V or higher.

All modes except Rampage
Once per day
Must be in a vehicle of tier V or higher

FCM 50t

(24 hrs., no Crew)

WZ-111 Rental Mission

Earn WZ-111 Rental in a FCM 50t

Earn 5,000 XP over any number of battles in the FCM 50t

All modes except Rampage

Once per day

Must be in the FCM 50t

WZ-111

(24 hrs., no Crew)
Heavy Tanks IV-VI Daily Missions

Mission 1

Mission 2

Mission 3

Daily Reward for Completing All

Destroy 2 Tanks

Play a battle, destroy two (2) enemy vehicles and place in your team's top 10 XP earners.

Restrictions

All modes except Rampage
Must be in a heavy tank of tier IV-VI
Repeatable

Reward

+30%XP

4K XP

Earn 4,000 XP over any number of battles.

Restrictions

All modes except Rampage
Must be in a

heavy

of tier IV-VI
Once per day

Reward

3xLarge First Aid Kit

Destroy 2 HTs

Play a battle and destroy two (2) enemy heavy tanks.

Restrictions

All modes except Rampage
Must be in a vehicle of tier IV-VI
Repeatable

Reward

+50% Crew XP

50% XP Booster (1 hr., no expiration)

Redeemable 7 times per account

Heavy Tanks VII-VIII Daily Missions

Mission 1

Mission 2

Mission 3

Daily Reward for Completing All

Destroy 3 Tanks

Play a battle, destroy three (3) enemy vehicles and place in your team's top 10 XP earners.

Restrictions

All modes except Rampage
Must be in a

heavy

tank of tier VII-VIII
Repeatable

Reward

+50%XP

5K XP

Earn 5,000 XP over any number of battles.

Restrictions

All modes except Rampage
Must be in a

heavy

tank of tier VII-VIII
Once per day

Reward

4xAuto. Fire Extinguisher

Destroy 2 HTs

Play a battle and destroy two (2) enemy heavy tanks.

Restrictions

All modes except Rampage
Must be in a vehicle of tier VII-VIII
Repeatable

Reward

x2 Crew XP

100% XP Booster (1 hr., no expiration)

7x per account

Heavy Tanks IX-X Daily Missions

Mission 1

Mission 2

Mission 3

Daily Reward for Completing All

Top 3 by XP

Play a battle and place in your team's top 3 XP earners.

Restrictions

All modes except Rampage
Must be in a

heavy

tank of tiers IX-X
Repeatable

Reward

+50%XP

6K XP

Earn 6,000 XP over any number of battles.

Restrictions

All modes except Rampage
Must be in a

heavy

tank of tiers IV-X

Once per day

Reward

x4Lg. Repair Kit

Destroy 2 HTs

Play a battle and destroy two (2) enemy heavy tanks.

Restrictions

All modes except Rampage
Must be in a vehicle of tiers IV-X
Repeatable

Reward

x2 Crew XP

100% XP Booster (1 hr., no expiration)

7x per account
Full Daily

Get Full Daily 4 Times

Complete

HT IV-VI All Dailies
HT VII-VIII All Dailies
HT IX-X All Dailies

Reward

200% Crew XP Booster (1 hr., no expiration)

200% Free XP Booster (1 hr., no expiration)

Complete

Reward

3x 100% XP Booster (1 hr., no expiration)

1x Ventilation Class 3

1xGun Laying Drive

1xLg.-Cal. Tank Gun Rammer
Premium Shop Bundles

Starts March 25 04:20 PT / 07:20 ET
Ends April 1 04:20 PT / 07:20 ET

FCM 50t 15% Tank Discount
1x Garage Slot

FCM 50t 30% Tank Discount
1x Vertical Stabilizer Mk 2
1xLg.-Cal. Tank Gun Rammer

1x

Ventilation Class 3

1,750

+FREE


1x

Garage

Slot