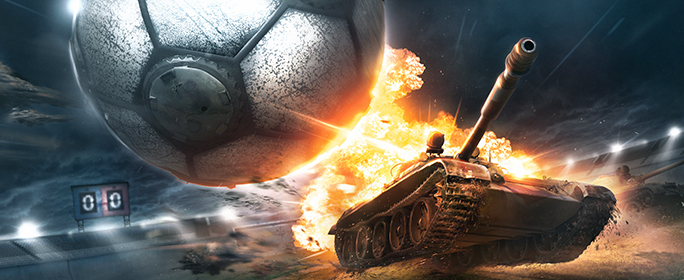 Ready for another month of tanks? June's got it all, from Gold-earning target practice to specials in the Premium Shop, and even tanks on a soccer field!
---
Tank Buffet
Feast your eyes on these recently improved Premium vehicles on a special discount for a limited time!
Brand-New VK 45.03 Heavy Tank in the Shop
Make your enemies cower in fear before the VK 45.03 German heavy tank cruising onto the battlefield.
Details
D-Day Weekend
Regular and Premium vehicle discounts and missions reward tankers in honor of D-Day. Plus, don't miss out on x3 XP all weekend!
Details
Panzer 58 Mutz

is Back

The one-of-a-kind "bear" tank is back! Don't miss out on getting this versatile medium tank into your arsenal.
Details
Soccer Mode & Tournament
Get ready for the next major sporting event! Soccer mode is back, and this time we'll have tons of prizes on the line in an epic 3v3 tournament!
Details: June 10
Hunt the Winners
June 5-18: The lucky winners and runner-ups of the Clan League will become the next targets in battle. If you find one on the enemy team, strike them down to win 250!
Lover's Day in Brazil
Earn a heart emblem to add to your beloved tank!
Details: June 12
Flag Day Emblem Discount
June 14: Get 50% off all emblems for the entire day, so don't forget to sign in and show your pride!
Third Thursday Throwdown
June 16: For one day only, unlock the Excelsior rental when you win a battle in a mid-tier vehicle, and the VK 45.03 rental in a high-tier vehicle.
Details: June 7
IS-3A

Back for a Limited Time

Haul in piles of Credits and blast your foes away with the IS-3A for a limited time!
Details: June 17
On Track Events
Get on track to these fearsome tier X vehicles! Take advantage of sweet deals on all the tanks leading up to them, plus your chance to earn a Premium vehicle!
Military March of Nations Continues
Each week in June will focus on a particular nation with discounts and missions! Details on dates below.
Weekly Class Focus
Learn more about how to command each of the vehicle classes with our weekly focus! Details on dates below.