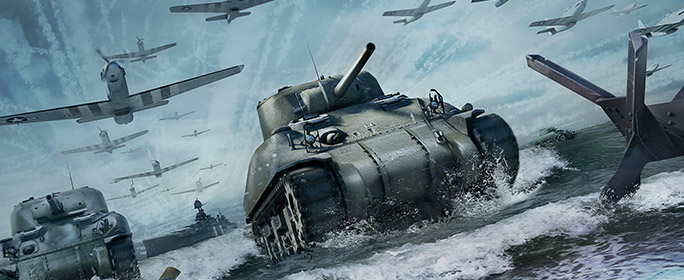 We remember the historic events at the start of the Invasion of Normandy with x3 XP on your first victories, along with discounts on select nations' vehicles. Don't forget to check out the missions with consumable and Crew XP rewards!
Starts June 3, 04:20 PT / 07:20 ET
Ends June 7, 04:20 PT / 07:20 ET
---

x3 XP

Reg. USA, French, German & UK Vehicles

Tier V
50% Off

Tiers VI-VII
30% Off

Credit Price

Premium UK Vehicles

Tiers VI-VII
30% Off

Gold Price
D-Day Weekend Missions
"x2 Crew XP on Tier IX & X British Tanks"

"The LZ is Hot"

"Outnumbered and Outgunned"

"Overlord"
Q:

How do I find the mission requirements?
A: Go into your Garage and click on the "Missions" tab just above your Crew:

If you're still curious, check out our handy guide!