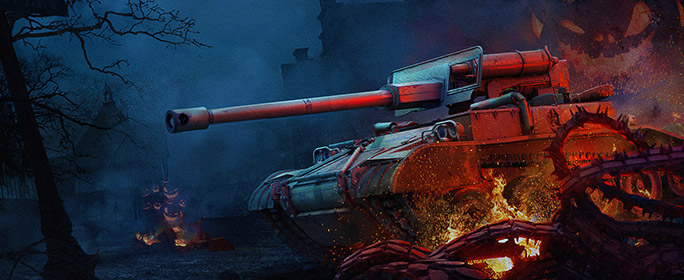 You've taken shelter from the other monsters in the forest in a mysterious cave, but you're not safe yet! The Monster Mayhem missions continue as unnatural yellow eyes swing your way through the darkness. Could this be the mysterious Tankacabra?
Take advantage of a discounts on equipment and vehicle exteriors to really deck out your war machines before you unlock the rental of the deadly M56 Scorpion tank destroyer! Next, set up your sniper's perch for several rewarding missions as you earn extra Crew XP and other rewards!
Every weekend during October, you'll have the opportunity to try out some new tanks and earn Personal Reserve XP boosters. This weekend, unlock the M56 Scorpion as a time-limited vehicle (TLV) rental and snipe your way into some helpful rewards. Get ready for our Monster Showdown starting on October 26, where you'll have the chance to use these XP boosts in our community-driven events based on maximum XP earned. So, head out onto the battlefield and hunt these rare monsters!
Starts Friday, October 16 04:20 PT / 07:20 ET
Ends Monday, October 19 04:20 PT / 07:20 ET
Bonuses and Discounts





x2 Crew XP

All Weekend

Equipment


50% Off

Credits Price

Camouflage, Emblems, Inscriptions

50% Off

Gold/Credits Price
Weekend Missions



Mission

Restrictions

Reward(s)

Get the Tankacabra Over Here!

Destroy five (5) vehicles over any number of battles.

Random battles
Once per account

M56 Scorpion (TLV)
2-day rental

Beware the Tankacabra - Sting!

Deal 5,000 damage over any number of battles.

1x Case of Cola

Personal Reserves:

50% XP Booster (1 hour, no expiration)

Bane of the Tankacabra

Destroy an M56 Scorpion in battle.

Random battles only
Repeatable

x2Crew XP

Monster Punch

Earn 20,000 XP over any number of battles.

Random battles only
Once per account

1x Camouflage Net
Monster Strength!

Starts Monday, October 19 04:20 PT / 07:20 ET
Ends Friday, October 23 04:20 PT / 07:20 ET
Daily First Victories
x3 XP