UPDATE (May 26, 2017)
The smoke has cleared from the Group Stage matches and only one North America team, Elevate, remains! Can they weather the storm of this weekend's Playoffs?

Find out on Saturday, May 27 at 2:00 AM PT (5:00 AM ET) by watching LIVE!
Missed the Group Stage matches? Catch up!
DAY 1 | DAY 2
---
What is It?
The Wargaming League is at war in the 2017 Grand Finals! Champions from across the world are brawling at VTB Ice Palace in Moscow to for glory and a $300,000 prize pool!
When is It?
Matches will take place starting May 23 and ending May 28.
Who's Participating?
12 teams of top tankers from around the world are already in Moscow and preparing to throw down for the title of World Champion 2017!
The two champs from the WGLNA Championship represented North America, now only one remains:
Elevate – The reigning champs recently scooped up their second straight championship. They remained undefeated throughout the entire season and boast the highest skill-level team ever assembled by the NA region.
eClipse – The former regional champions make their second appearance at the Grand Finals. These "young guns" are more experienced and battle-hardened than ever before!
How Can I Watch?
How Can I Participate and Show Support?
Want to get in on the action? Let's count the ways:
Every participant wins a prize! Get in there, create your dream team, and see how they do.
NOTE: Finals Fantasy is open to the North American region only.
---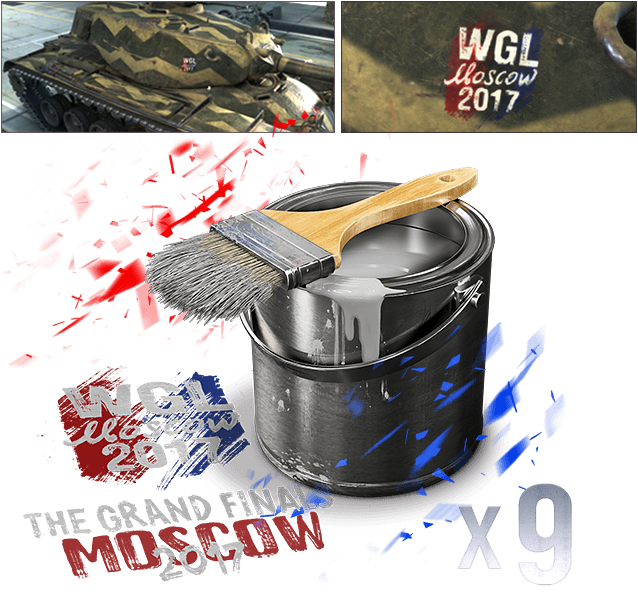 Show off your fan colors on your favorite tanks with some Grand Finals emblems!
---
Represent the WGL Grand Finals on Social Media with #WotGF2017