The WGLNA Gold League Regional Finals are getting closer! As the big day approaches, we're profiling the top teams throwing down!
Dare Rising
Dare Rising makes their return to the Regional Finals! They made a strong showing last season as the young unknowns who shot to third place. This season, their expectations are higher than ever with more experience and a new sponsor! Will that be enough to ensure victory?
We asked team captain Will "Change" Kaufman this and more!
Question: Last season, you guys were the "new team" and never met each other in person before. Now you're back for your second live event with a mostly unchanged roster and a new sponsor. Does it feel different?
Answer: Well, we're no longer the "unknown kids." Technically, our average age increased with the addition of Burdenedfungus. Kidding aside, this season is purely business. We know what we are and what we've accomplished. This upcoming regional final is no different -- we play to win.
Q: Your first match is against eClipse, a team you fought back and forth with in the standings all season. Will this upcoming showdown be any different?
A: Our first clash was a 5-1 win in our favor. We lost the second 4-5 in overtime. With a lot of the drama eClipse has been dealing with, we're the superior team on paper. With that said, they're the only team this season that's given Elevate adequate competition. With so much on the line for both teams, this upcoming match will be the most tense we've had this season.
Q: This match against eClipse is also a mathematical must-win if you want a shot at the Grand Finals. Does your approach change with this in mind?
A: No. We've known what's at stake for weeks now. We put in countless weekly hours of practice with some of the best teams in the world, but that's what we always do.
Q: Does having your sponsor live at the event change your thinking or approach?
A: No. We approach our matches all the same. We're playing for money, so we focus on the task at hand in order to win.
Q: Toughest question: Which team member has the best hair?
A: No contest. Nationwide has that "Cali surfer flow" going on.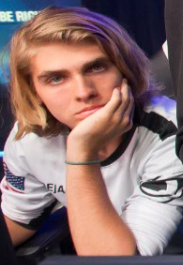 Q: Any additional comments, Captain?
A: #DaretoAchieve!
---
Pumped for More?
Join Us Live at the Finals!
Follow Dare Rising