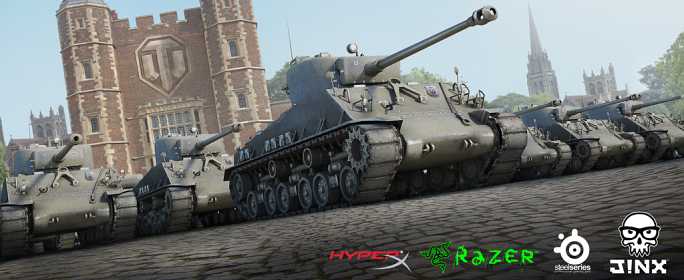 Summer goes by so fast, doesn't it? For many, it's time to start thinking about (OK, dreading) school starting back up. If you spent some time on break playing World of Tanks, then we have a community contest for you!
We want you to create an original lesson on some aspect of World of Tanks that can help others. Are you great at spotting? Setting up the perfect Crews? Or maybe you have some tips on how to communicate with a team? As long as it's relevant to the game, we'll accept guides in written form, videos, or comics and other visual forms!
And of course, those who excel can win big. Creators of qualifying guides will be entered to win grand prizes from our friends at Razer, HyperX, SteelSeries, and J!NX!
Prizes
Grand Prizes:
(1) Razer World of Tanks DeathAdder mouse and WoT Kraken headset with J!NX "Big Bag of Tanks" stuffed messenger bags

(1) HyperX Cloud II headset for Xbox + J!NX "Big Bag of Tanks"

(1) SteelSeries

Stratus XL

iOS or Android Mobile Controller + J!NX "Big Bag of Tanks"
Once enough people have submitted entries, we'll have a secondary "What I Learned" forum thread for you to share what you learned in a report that can give you another chance to win!
Other prizes to win include more J!NX "Big Bag of Tanks" bags and Wargaming-branded supplies!

Rules in Brief
Deadline August 7, 2015 12:00 PT

Must be original work created on or after July 1, 2015
Video guides must be under 2 minutes in length
Visual guides include comics or infographics
Multiple entries accepted and encouraged, but will not increase chances of winning

All entries must comply with Wargaming's moral, ethical, and legal standards, as well as forum rules

All submissions will be judged by the community team. We will critique all entries based on quality, creativity and originality
Three (3) Grand Prize winners and five (5) runners-up chosen from World of Tanks, World of Tanks Console and World of Tanks Blitz submissions
Prizes ship to United States and Canada only
Please visit the official Officer Academy forum thread for complete rules, instructions, and inspiration!