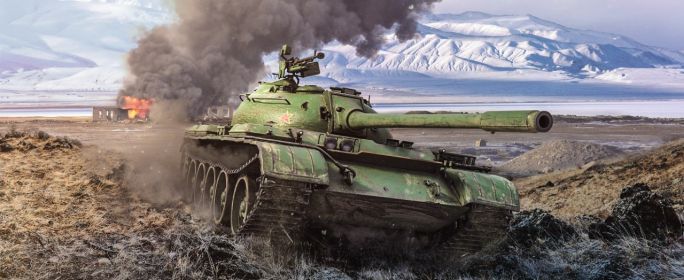 Hell Yeah, Type 59! Here's your chance to make the desirable Chinese tier VIII medium tank yours in this fun creative community contest!
Removed from the Premium Shop in early 2012, the Type 59 has become one of the most sought-after vehicles in World of Tanks. At tier VIII, the Type 59 sports exceptional frontal turret armor and well-sloped frontal hull armor that can bounce shots from most lower-tier guns. Despite its decent armor, the Type 59 is remains mobile and can flank enemies with ease.
Starts Friday, October 30, 09:00 PT / 12:00 ET
Ends Friday, November 13, 12:00 PT / 15:00 ET
How to Enter
Create your own one-minute "Hell Yeah Tanks!" video similiar to the one below and post it to the dedicated forum thread.
Prizes

1st

Type 59 + Slot

3,000

30 Days Premium Acct.

2nd

Type 59 + Slot

2,500

21 Days Premium Acct.

3rd

Type 59 + Slot

2,000

14 DaysPremium Acct.

4th

1,500

7 DaysPremium Acct.

5th

1,000

7 DaysPremium Acct.
Rules
All players are welcome to participate in the contest, but each player can only submit one entry

The video must be created exclusively for this contest

Entries will be judged on creativity, quality and content

The video must be about one minute in length, and

comply with the moral, ethical, and legal standards, as well as with the forum rules
Wargaming gains exclusive rights to the contest video when it is posted to the forum, as outlined in the "10. User Generated Content" section of the Terms of Service