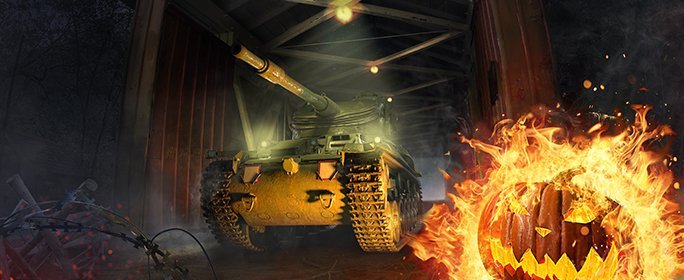 Proceed with caution along the spooky streets of TankRewards.com this month -- October's "Trick-or-Treat" rewards event is packed with goodies, and you can exchange points for treats every week.
For every point earned, you can "knock" on the door of a house in the eerie "Tank Rewards" neighborhood. Choose one of the three houses to get a prize, from Gold to coveted vehicles like a Type 59 or E 25! Tweet your prizes with #TankHollow for your chance to win an extra point.
Log into TankRewards.com every Thursday to trick-or-treat with any points earned so far (up to the Monday).
---
Ways to Earn "Trick-or-Treat" Points in October
TankRewards.com Daily Mission
Oct. 1-27: Earn 20,000 XP in tiers IV+ once per day.
Weekly Class Focus
Earn 50,000 XP and/or win 20 battles (once per week) in the following vehicle classes:
Tank Mastery missions
Earn the Mastery Badge "Ace Tanker" on the featured tanks.
Oct. 10-16:

"Wargaming Favorites"

IS-3

,

Wolverine

,

E 75

,

M4 Sherman

,

Panzer 58 Mutz

Oct. 14-23:

"Underdogs"

AMX 40

,

T25/2

,

Type 5 Heavy

,

Churchill Gun Carrier

,

T-34-85M

Oct. 21-30:

"Titans"

O-Ni

,

Maus

,

O-I

,

T95

,

TOG II*
Halloween Missions
Oct. 28-31: Damage 20 modules/Crew members, and/or get "Top Gun" or "High Caliber" medals.
*See "Missions" tab in game for additional rewards!
---
More Details
Get more information on missions every Friday at WorldofTanks.com
Points earned through missions (up to and including the Monday) are added to TankRewards.com accounts every Wednesday afternoon (Pacific Time)
"Trick-or-treat" with points at any time during the event. (You can wait to spend all your points at once if you want!)
You'll receive your treats by 14:00 PT the following weekday (16:00 PT on Wednesdays)
Use "Trick-or-treat" points by November 10 at 09:00 PT for the best chance at high-end prizes
Any unused "Trick-or-Treat" points will result in automatic lower-end prizes after November 10 at 09:00 PT