Do you have a favorite community contributor? Do you have friends you would like to see play World of Tanks? Would you like to help your CC play the game on a sweet Alienware desktop system? Are you wondering why we are asking these questions?
Then join the Summer Recruitment Drive!
How It Works
Starting July 1 until August 31, all community contributors will reveal a unique invite code during their streams — you can also find their codes in the spoiler below:
List of Community Contributors & Codes
Expand
Recruiting players use the code to give to their friends who want to play World of Tanks!
1. The Recruiter: In the game client, the recruiting player clicks on the "Referral Program" button to send an invite to a friend (the recruit) who wants to join the game. Also remember to send the code provided by the community contributor to your recruit as well.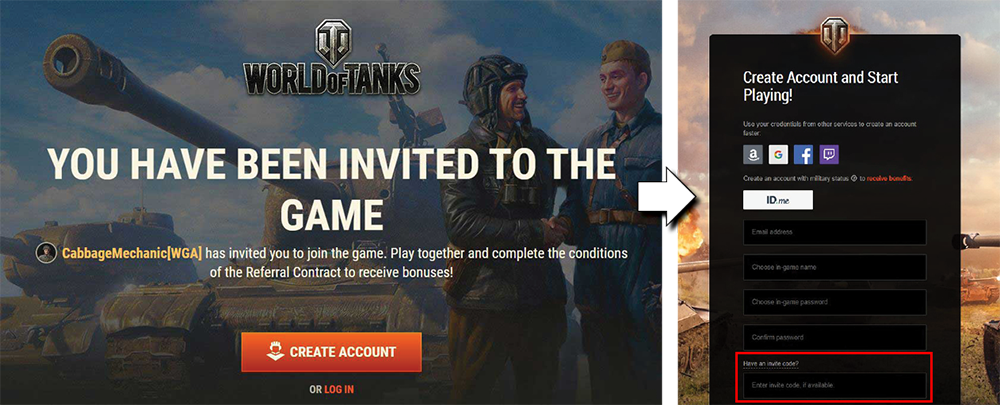 2. The Recruit: Open the invitation and follow the instructions (see above). At the "Create Account and Start Playing!" screen, the recruit uses the code from the recruiter in the field under "Have an invite code?"
The CC who has the most recruits using their invite code wins the Alienware desktop system!
Alienware AURORA + Tobii 4C Eye Tracker

LUNAR LIGHT
AMD Ryzen 5 3500
WIN10 HOME
AMD RADEON RX 5600
16GB DDR4 XMP 2666Mhz
512 GB M.2 SSD
"Wait," you say. "I love my CC, but what's in it for me?"
How about a new Premium vehicle? Each successfully recruited player gives an opportunity for each of you to select a brand-new Premium vehicle. Plus the satisfaction of watching your favorite CC stream World of Tanks on a blazing Alienware desktop system, all the time knowing you helped make that happen!
Now is the perfect time for a new Premium! World of Tanks is packed with summer events where you can earn tons of unique items: 10th Anniversary Celebration, Battle Pass: Season 2, and Highway Rock — just to name a few!