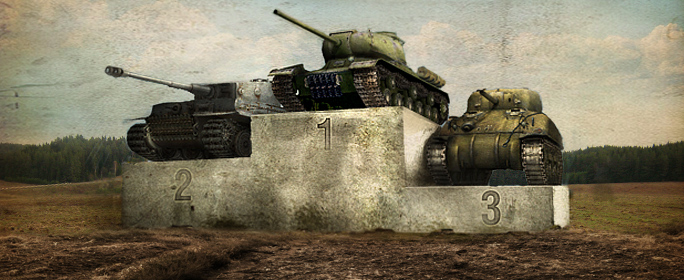 Are you a hot shot competitive World of Tanks player? Help spread the knowledge!
Put together an interesting and informative guide about any aspect of eSports, Strongholds or Clan Wars and you could win big! Guides can range from map strategies to the best tanks at any tier, even basics on how to call a battle or set up your first tournament team.
Guides can be both written or video, and winners will have their guides featured in upcoming tournaments, as well as receive awesome physical prizes!
Prizes

If you reside in USA & Canada
(excluding Quebec)
If you reside in Quebec /
outside USA & rest of Canada

Video Guides

17-inch ASUS Gaming Laptop

100,000

,

Type 59

,

KV-5

, 2 Garage slots, 360 days of Premium
2nd
ASUS GeForce GTX 980

75,000

, Ripper Patton KR, Garage slot, 180 days of Premium
3rd
ASUS GTX 970 Graphics Card

50,000

,

IS-6

, Garage slot, 90 days of Premium
4th-5th Place
Razer BlackWidow Chroma Keyboard

30,000

,

IS-6

, Garage slot, 30 days of Premium

Written Guides

ASUS 24-Inch Monitor

50,000

, Ripper Patton KR, Garage slot, 180 days of Premium
2nd-3rd Place
ASUS GTX 970 Graphics Card

30,000

,

IS-6

, Garage slot, 90 days of Premium
4th-5th Place
Razer BlackWidow Chroma Keyboard

20,000

,

IS-6

, Garage slot, 30 days of Premium
Rules
Submit your guide on this forum thread
Players may submit more than one guide, but can only win one prize
Written and video guides are accepted
Video has no minimum or maximum length as long as the content remains relevant to the subject
Winning submissions from outside the US and Canada (excluding Quebec) will receive in-game prizes rather than physical
Submissions must be submitted by September 2 at 09:00 PT
Community and eSports staff will judge entries

based on content quality
How Content May be Used:
Where relevant, video guides can be embedded in the tournament page and/or forum post (example: a map guide on Ensk can be included on an Ensk tournament)
Written guides can be pinned on the forums
Written or video guides may be promoted on World of Tanks social media channels