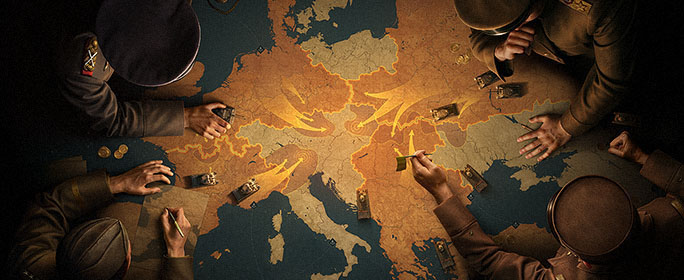 With the announcement of Seasons on the Global Map, we have some more information regarding the tiers VIII and X Seasonal Fronts. Make sure to check out the original article for more information on general Season rules.
The first tier VIII and tier X Seasonal Fronts will open on October 26. As previously announced, the First Season officially started on October 14 with the tier VI Seasonal Front, and the entire Season should last until November 16.
As previously mentioned, the tier VI Seasonal front is taking place in the United States and covers the territory from the West Coast to the Midwest. The tier VIII Seasonal Front, however, will cover territory from the East Coast to parts of the Midwest, while the tier X Seasonal Front includes parts of Mexico and the American Southwest.
Additional Changes to the Global Map
There are 340 total provinces on the tier VI front, 210 on the tier VIII front, and 140 on the tier X front
The maximum number of landing tournament applications on all fronts is 2
Changed map set - the previous list on the original article applies only to tier VI fronts
Tier VIII Fronts

Abbey
Airfield
Cliff
El Halluf
Ensk
Fiery Salient
Fisherman's Bay

Ghost Town
Highway
Himmelsdorf
Karelia
Kharkov
Lakeville
Live Oaks

Malinovka
Mines
Murovanka
Overlord
Prokhorovka
Redshire
Ruinberg

Sand River
Serene Coast
Stalingrad
Steppes
Swamp
Tundra
Westfield

Tier X Fronts

Abbey
Airfield
Cliff
El Halluf
Ensk
Fiery Salient
Fisherman's Bay

Ghost Town
Highway
Himmelsdorf
Karelia
Kharkov
Lakeville
Live Oaks

Malinovka
Mines
Murovanka
Overlord
Prokhorovka
Redshire
Ruinberg

Sand River
Serene Coast
Siegfried Line
Stalingrad
Steppes
Swamp
Tundra
Westfield
Awards and Memorial Inscriptions
Tier VIII Seasonal Front Medals
Season Winner, Class I
Season Winner, Class II
Season Winner, Class III
Season Elite
Season Veteran

Tier X Seasonal Front Medals
Season Winner, Class I
Season Winner, Class II
Season Winner, Class III
Season Elite
Season Veteran
| Participant Emblem | Clan Emblem |
| --- | --- |
| | |
Prize Rankings on All Tier Fronts
Max. position
Min. position
Medal
Clan Emblem
Participants Emblem
1
-
Season Winner, Class I
+
+
2
-
Season Winner, Class II
+
+
3
-
Season Winner, Class III
+
+
4
10%
Season Elite
+
+
10%
50%
Season Veteran
-
+