How to Create a Platoon
A "Platoon" is our name for a small group of two to three players who can enter battles together. Platoons can lead to better teamwork, and they're a great way to have fun with friends as you learn each other's playing styles and work together toward victory. Three vehicles working together can often beat three vehicles working independently!
Platoon setups are entirely up to you, but some of the more popular setups include:
Any World of Tanks player can create a Platoon with these steps:
In the Garage, click the "Create Platoon" Button to the left of the red Battle button.

Once the Platoon is created, you'll see two new windows in your Garage: "Invite to Tactical Unit" and "Platoon." A "Platoon" tab will also pop up in the bottom left of your screen.
The first window will list all of your friends who are currently in-game. Invite someone to your Platoon by clicking on their name and then on the single arrow, or by dragging their name over into the window that says "Drag contacts here."

Once you select the player(s) you wish to invite, the "Invite" button will light up.

Click the "Invite" button.
When your invitation is sent, your friend(s) will get an invite notification in a special window in the bottom right of their screen. To join the Platoon, they will need to click the "Accept" button: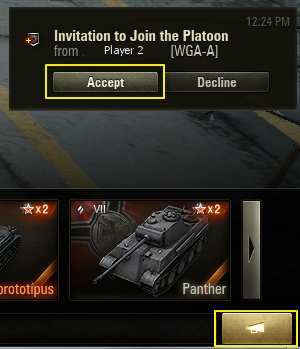 When the player(s) have accepted your invitation and are added to the Platoon, the notification window can be closed.

To start fighting as a Platoon, simply choose the vehicle you prefer from your Garage, click "Ready!" in the Platoon window, and wait until your friend(s) confirm their readiness: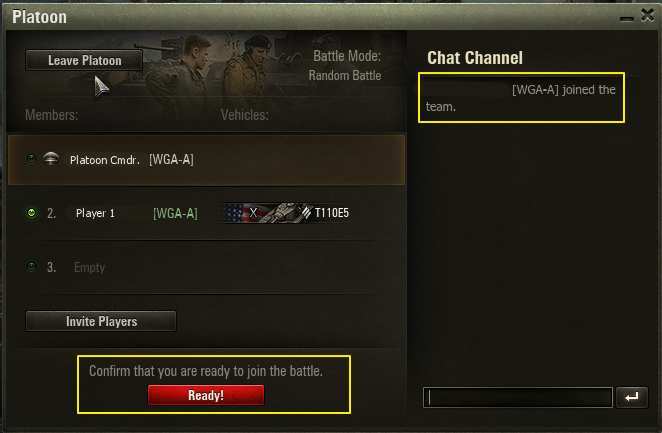 Once your Platoon is ready, click "Battle" to roll out!